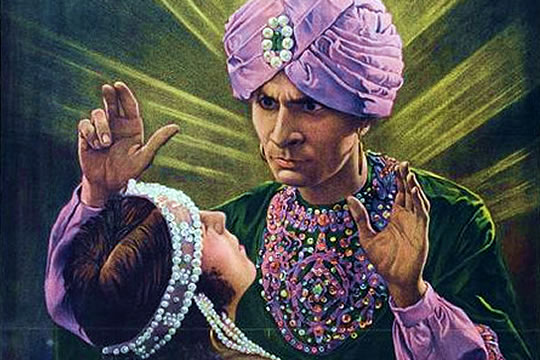 It's easier to tell high-responders in hypnosis
that they are communicating with the Divine
than it is to tell them that they are a chicken!
-
There is a woman up the road from me who hypnotizes people and tells them the name of their guardian angels, and which ones to pray to for whatever request they would like make. How the heck does SHE know? Recently, however, a former client of hers told me that he had learned to "speak in tongues" several years ago; and every night, he prays in tongues both to the Trinity and to the guardian angel whom this woman has identified for him.
It's probably easier to tell high responders in hypnosis that they are communicating with the Divine, experiencing a past life, a future life, or life between lives, than it is to tell them that they are a chicken, as stage hypnotists and entertainers have been known to do. This is true because the suggestion that a person is a chicken is strongly contrary to one's existing belief systems. However, if a suggestion sufficiently enhances the ongoing narrative of a person's life story, then it will not only be accepted at the time it was given, but it may continue to be believed in after the hypnotic session is ended, as was the case with my client who continued to pray to the "guardian angel" identified by a hypnotist. If you provide suggestions of this type to several people who continue to meet regularly in support of these beliefs, you could be well on your way to starting your own hypnosis cult.
Deception is not necessary, however, in order to benefit from the power of suggestion. As long as people understand that they are using their hypnotic imagination to experience things which are fundamentally unknowable except by faith, and that the experience is real, regardless of whether or not it corresponds to something that is actually "out there," then it is not a cult, because your hypnosis clients are "in on it."
Post-modern constructionism is the point of view that we should help clients to piece together whatever conceptual framework will help them to make sense of their existence, regardless of the reality which we have constructed for ourselves. As a post-modern constructionist, I would not hesitate to utilize any kind of believed-in imaginings that will help clients to alleviate distress and find meaning and purpose in life. regardless of the beliefs which I personally employ in order to build such an understanding for myself. And if this means enhancing the religious or philosophical beliefs which they already have, then so be it. But what about creating an entirely new set of beliefs?
For example, If the number of alternate Universes is truly infinite, as some physicists now maintain, then it is possible to use the higher powers of the imagination to experience any one of these possible Universes in hypnosis just as if we were really there.
If the number of parallel universes is theoretically without limit, there is – somewhere – an alternate universe
where we can bathe in an ocean of infinite, unbounded, and everlasting love, freed from the limitations of space and time, to satisfy these deepest longings, enhance our self-esteem, and overcome all our feelings of unhappiness, loneliness, anger, and despair.
Many physicists now believe that the number of possible alternate universes is theoretically unlimited. By hypnotically experiencing an alternate universe in which a goal has already been achieved, we can experience now, in the present, the full rewards of future goals in order to provide ourselves with the confidence and motivation to achieve them. We can thus become truly free to want to do what we know that we ought to do in order to develop our potential to the fullest. This greatly increases our sense of personal freedom, by lessening or eliminating the need for what is commonly referred to as "will power," or the need to push ourselves to do something instead of merely pushing the work alone. This includes such common problems as losing weight, becoming a non-smoker, earning a better annual evaluation at work, or improving one's grade-point average.
Regardless of whatever else may be going on in our lives, we can also "get away" to an alternate universe and come back as refreshed as if we had been away for a week, a month, or even longer.
The newly-published e-book, Exploring Alternate Universes -- And Learning What They Can Teach Us,
by Gibbons and Cavallaro, will show you how. (It's a Kindle e-book, but if you don't happen to own a Kindle you can download it onto your laptop or smartphone.)
See Also:
Suggestion-Enhanced Experience in Native American Culture
Were You Saved or Were You Hypnotized?
Scroll down for a list of some of the most popular sites on this Blog.
Below this list are the most recent Blog entries.
For an easily accessible list of all Blog postings, see the list entitled, "Blog Archive" in the column at the right of this page.
Here are some of our most popular sites
:
The Blog contains many other examples of experience as an art form, for the enhancement of human potential, the ennoblement of the human spirit, and the fulfillment of human existence.
See also the following print sources:
Gibbons, D. E., & Lynn, S. J. (2010). Hypnotic inductions: A primer. in S. J. Lynn, J. W. Rhue, & I. Kirsch (Eds.) Handbook of clinical hypnosis, 2nd ed. Washington, DC: American Psychological Association, pp. 267-291.